Live chat is a great way to engage visitors to your website, but then the fact you've found this page is likely to mean that you've realised that already. There are a whole host of live chat tools out there, ranging from free to hefty monthly payments per chat operator. We originally started investigating the live chat options on behalf of a client, but soon realised how we could use it ourselves.
What we were looking for
Integrate into WordPress site.

Multiple chat operators.
Link to Instant Messenger (IM) account on mobile devices.
Retain chat history.
Proactive chats (automatically engage visitors).
The live chat solutions we trialled
Initially we tried Clickdesk, which seems a very popular option for WordPress users and has reasonably priced packages. We really liked the integration with Google Talk and Skype, but unfortunately the reliability and support wasn't up to the level we required. They were doing an upgrade around the time of our trial, which may explain some bugs, but they were also changing features without warning, like the appearance of the chat widget on our website; this is fine if you like the new design, less so if you don't! I suspect they are a young company that are striving ahead, perhaps a little too fast, but will definitely be one to watch for the future and they have great potential.
We also tried some self hosted options, including WordPress Live Chat Support, which may be a very cost effective solution for small businesses where someone can be online on the website a lot, but less effective for businesses where the team are out and about a lot and not glued to the computer.
Enter Offerchat!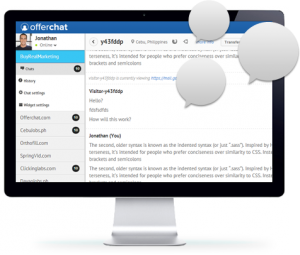 We then came across Offerchat, which seemed to have all the things we were looking for. The bit that really surprised us though is that it's free! No limits on operators or chats per month or premium features, just completely free! They make their money by offering sales agents to answer your chats when you're offline; you can either pay per chat, pay per hour or pay per month. Don't worry though, if you want to stick with the free option then visitors can still leave an offline message when you're away.
Offerchat was pretty straightforward to set up and they have an excellent Admin Console for managing your chat facilities. You can set up profiles for different websites you run and assign operators to particular sites. Setting it up to link to an Instant Messenger on the computer and mobile devices was a little more involved but works great (we use IMO, which has both an Android and Iphone / iPad app as well as being available through any browser).
Offerchat are quite new, they are currently in Beta (meaning it's open to testing by the general public) and so you should expect the odd glitch. We found a couple of minor issues and we got really quick responses from the support team and even the Managing Director. There are some features that we hope they will add in the future that others already have, but we don't mind this as the level of support is more important to us and our clients.
Summary of Offerchat
Easy to use console.
Free, with unlimited operators and website profiles.
Clean widget design that can be customised to suit your website.
Great support from the Offerchat team.
Proactive chats to automatically engage visitors to your site.
You can see what webpage visitors are on when chatting to them.
Integration with Instant Messengers.
We'd like to see enhanced message routing (e.g. messages routed to all online operators, not just the first one).
We'd also like to see the ability to transfer chat sessions with a full chat history to another online operator.
It would be really useful if a full chat history was automatically e-mailed to the operator after each chat.
The bottom line is that Offerchat provide a great service for free, which is well supported, and they have a clear development plan with regular updates. Offerchat suits our needs perfectly and we'd recommend you check them out if you're looking for Live Chat Support on your website.